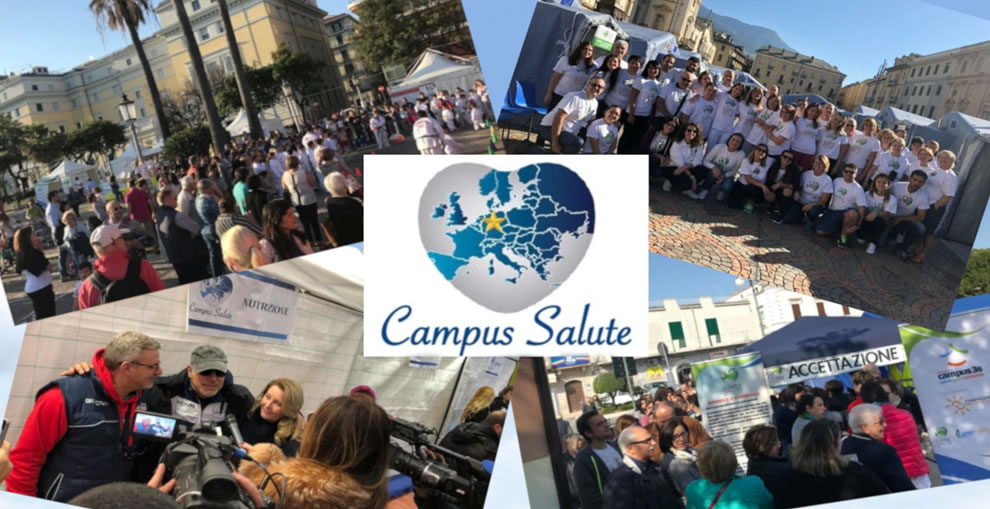 2018 was a crucial year for the growth of the ONLUS Health Campus, which has seen the associations, which have always supported us, and, above all, our volunteers involved on several fronts. All the projects had only one goal: to promote the culture of prevention and the importance of the state of health in all its aspects.
We have been busy in many squares and places in Italy with the organization of our main project: the field hospital with specialist clinics, which brings the population closer to the basic concept of prevention for us. This year we started from Liveri, to then touch most of the Campania squares: from Marcianise, for the first time, and Caserta, passing through Salerno, Pollica-Acciaroli, Piano di Sorrento, Torre Annunziata, San Giorgio a Cremano, Pompei , Avellino, Loreto and finally, our biggest and most important stage, Naples.
2018 saw us busy even away: there was our first time in Canosa di Puglia and Palermo, but also our consolidated stages of Spinazzola, Messina, Padua, Aosta and Roccaraso. In addition, a day dedicated to the prevention of minors was organized, the Kids Health Campus, on the occasion of the Fiera della Casa in Naples.
These events, with the help of Amesci and Sportform, allowed to spend days dedicated to fun and health, with about 7,000 specialist visits.
2018 was the year of the start of the project for the nursing and psychological support of circus 60 patients from Campania affected by pituitary pathology, thanks to the contribution of Pfizer, and the year of the organization of the International Voluntary Day by the section of Caserta Health Campus, to underline the importance of the volunteer figure and to thank all those who have allowed the development of our numerous projects.
On December 15th our calendar year ended at the Diocesan Museum of Naples with the presentation of the "CampusDario 2019″, the Health Calendar, wanted by the National President, Professor Annamaria Colao. A special evening, an opportunity to illustrate the more than satisfactory results achieved in 2018, to present the many new objectives and to thank the volunteers and doctors who have enabled us to achieve our goal: to make the concept of prevention accessible to all.