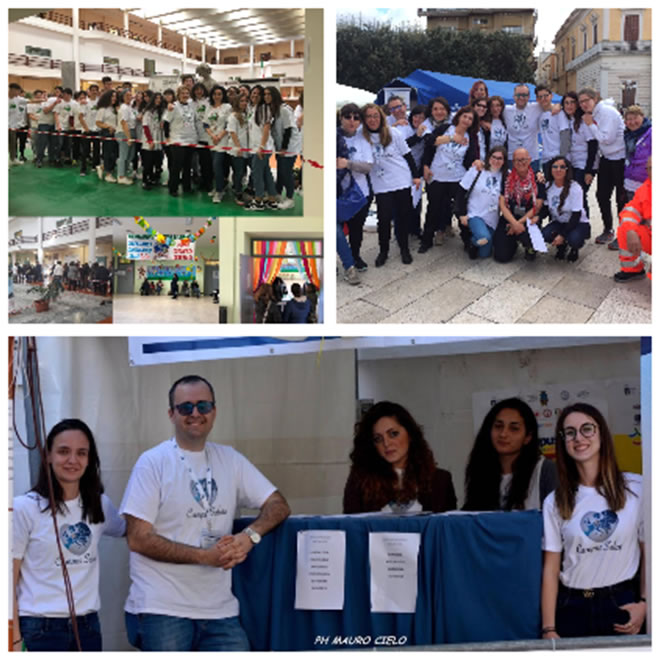 Falling in love more and more with our Prevention and Screening Project for the population, this year too will be a year full of appointments and initiatives with the same passion if not more.
On March 9 and 10, the large group of volunteers from Caserta restarted their activities, organizing a two-day free visit to the "M.Buonarroti" State Technical Institute. Once again the initiative was met with great appreciation by the citizens and at the end of the two days (Saturday afternoon and Sunday morning) over 500 free medical visits were recorded.
For the second year, our associative team, coordinated by the referent Generoso Persino, has involved doctors and volunteers at the Comprehensive State Institute "Costantini" in Liveri (Na) to spread the culture of prevention. On the days of 9 and 10 March, numerous citizens were able to benefit from the possibility of making free visits to the various clinics set up for the occasion (endocrinology, breast examination, nutrition, ENT, orthopedics, cardiology, gastroenterology).
The volunteers working in Canosa di Puglia, assisted by the ASLBT, have once again given life to a beautiful three days dedicated to prevention. There are many people who, on 11-12 and 13 April, were able to take advantage of free medical checks in Piazza Vittorio Veneto and live out the culture of prevention. At the end of this first step in Puglia of 2019, there are once again almost 1000 free medical examinations and numerous sporting performances that have drawn attention to how important sport is to maintain a correct life style and preserve one's health.
An evening, April 17th, in the name of solidarity for our association through the Burraco Tournament and the setting up of a charity market in the splendid setting of the Naples Tennis Club.
On 26-27-28 April in Cota Square (Piano di Sorrento) there was a new stage in the Campus3S – Health Sport Solidarity strategic project. As always we lived a "real party" dedicated to prevention and there were a lot of sports and free visits to the population in the various clinics set up for the occasion (cardiology, posturology, hematology, angiology, nutrition, ophthalmology, breast examination, rheumatology and eco thyroid).
These activities are only the beginning, but "whoever starts well is half of the work".
To be continued..